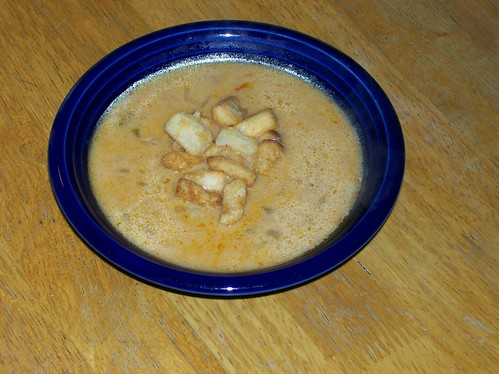 A few years ago, I discovered the Chicken Wing Soup at a local restaurant called Danny's. The place is a small institution, and their soup is incredibly popular, now having a permanent spot in their soup-and-salad bar. I wasn't content to only eat the soup when I go to Danny's, though, so I created a recipe for it, which I then tweaked several times, over several blog posts. I figured it was time to gather all those thoughts into a single page on the blog, so here it is!
(Note: My original version of the recipe was not gluten-free, but that particular dietary need has become a reality at Casa Jaquandor, so I've amended the recipe to make it so. See the notes.)
INGREDIENTS

1 to 2 lbs cooked chicken (Any chicken will do. You don't have to use all-white breast meat; in fact, I prefer thigh meat, because it's moister. If you have a leftover rotisserie chicken or other roasted chicken, you can use that. The more chicken, the thicker the soup.)

1 small onion, diced
2 carrots, diced
2 stalks celery, diced
3-4 cloves garlic, crushed or minced
2-3 potatoes (I use white), diced

1 stick butter
1/4 cup flour (OMIT if making the soup gluten-free!)
1/4 cup cornstarch (ONLY if making the soup gluten-free, OR use GF flour -- see below!)

32 oz Chicken stock (I make my own now, which I detail below. Otherwise, use canned, cartoned, or reconstituted bouillon. I prefer stock to broth. It has more body.)
2 cups whole milk or half-and-half

Hot sauce. (How much depends on you...but if you make this soup mild, I will never speak to you again!)
I only use two pots when making this soup: a crockpot, and another large pot or pan for sauteeing the aromatics.
1. Put the chicken and the diced potatoes into the crock pot. Douse all with hot sauce, one tablespoon or two, and then lid the pot and turn it on.
2. In the other pot: melt the butter, and stir in the flour. Stir until smooth and the butter-flour roux is light brown in color. (Again, if making gluten-free soup, leave the flour out and go right on to the next step.)
2a. OR!!! You can make a gluten-free roux using most GF flours these days. Make sure to use one that's cup-for-cup exchange, to which you don't need to add stuff like Xanthan gum (meaning, it should already be in there). When I first developed the GF version, GF flour wasn't as good as it is now. You can get decent GF flour at most good grocery stores these days.
3. Add the aromatics, starting with the garlic by itself for thirty seconds or so and then all the rest. Add salt and pepper (I use very little salt, but quite a bit of pepper.) Stir and saute over medium heat for several minutes.
4. When the aromatic veggies start to wilt and look tender, add the chicken stock and the half-and-half. Turn heat up to medium high, and keep stirring while the soup comes to a boil.
5. When the soup reaches a boil, stir vigorously for just a few seconds, allowing the roux to thicken it. Then pour the soup base into the crockpot, over the chicken and veggies.
6. At this time, stir in as much hot sauce as you wish, tasting to make sure it's right. The more hot sauce you put in, obviously the hotter the soup. Also, the more orange it will be. Put the crockpot lid on and simmer on high for several hours, until the potatoes are cooked.
7. AT THIS TIME, if you are making the soup gluten-free, then take the quarter-cup of cornstarch, whisk it into a half cup of half-and-half, and then stir it into the soup. Simmer another half hour or so. You can add more cornstarch if you want the soup thicker. (AGAIN, if you made a GF roux, you do NOT need to thicken with the cornstach! But you can if you want. It's
your
soup!)
8. To serve: Ladle into bowls and top with croutons. I load the top of my bowl with croutons, actually. The ones that really soak up the soup and become chewy in texture are just
awesome
. This soup reheats very well, by the way, which leads me to believe it would work well for tailgating; just make it the day before, chill it overnight, and reheat it at your party.
Now, the measures I give up above on ingredients are just a starting point. Truth is, I've made this soup enough times that I never measure anymore, I just keep throwing stuff in until it's the way I like it. I prefer more chicken to less chicken, and I tend to wield a heavy hand with the hot sauce.
To really make the soup from scratch, get a single roasting chicken (7-8 pounds), or two smaller fryers (3-4 pounds each), and cook them in the crockpot. That's right: rinse them out, season them inside and out with salt, pepper, and cayenne, and then cook them in the crockpot on high for five to six hours, or until the meat is coming off the bone. Then, remove the meat and refrigerate -- and throw the bones and skin back into the crockpot. Add a chopped-up onion, carrot, and celery (you don't have to worry about making nice dice here, just hack the stuff up), pour in about six cups of water, and simmer the whole thing on low overnight. When you get up, you'll have freshly made chicken stock, which you can then use for the soup, along with the reserved chicken. (You can also do this if you're NOT making chicken wing soup right away, as home-made chicken stock is INCREDIBLY useful to have around for stuff. I never buy prepared chicken stock anymore; I do this and make more every time my supply dwindles in the freezer.)